Connect with Zoom

Connect on your computer
You need:
computer with internet connection
microphone
amplified speakers
large monitor or projector
meeting URL.
Configure the hardware as you would for any videoconference. Zoom does a great job of suppressing echoes, so additional echo-canceling hardware is probably not needed.
The URL needed for MINERvA masterclasses is: https://fnal.zoom.us/j/301062922.
This is also given as a link on the Indico pages for the masterclasses. In the case of other uses for Zoom, the meeting manager should make a URL or link available.
To connect:
Go to the URL about 10 minutes before your masterclass. This enables you to connect and solve any problems before the videooconference begins. This will appear on your browser...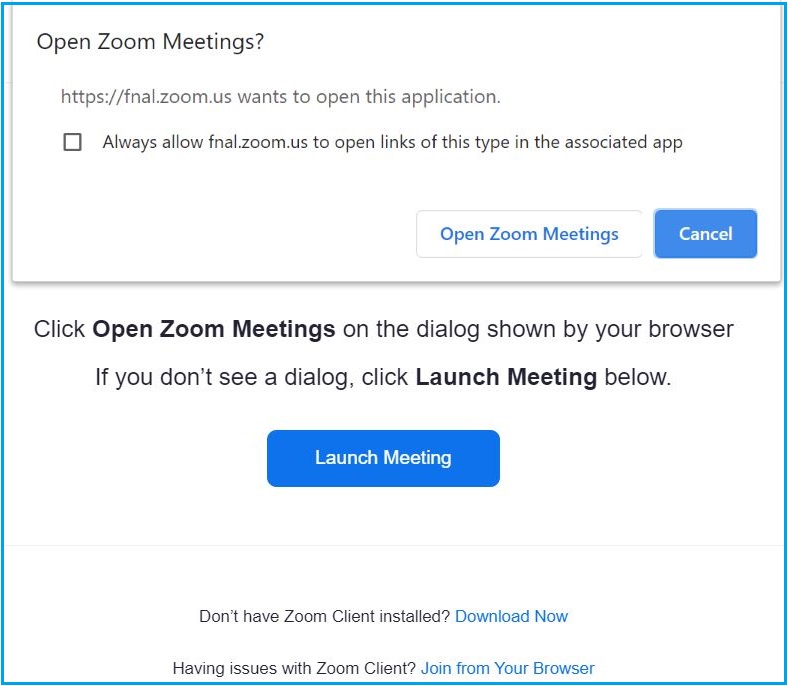 If your computer does not have or you do not want to use the Zoom client, you can choose the "Cancel" button in the "Open Zoom Meetings?" box and then choose "Join from your Browser." (The box may return, in which case you will need to choose "Cancel" again.) Follow the prompts and the Zoom meeting will open in your browser.
If you do not have the Zoom client but want to use it, you can instead choose the "Cancel" button and then "download & run Zoom". follow the prompts.
If you have the Zoom client, choose the "Open Zoom Meetings" button in the box.
All three approaches get you to pretty much the same place: the option to chose a telephone connection or computer audio via internet. We recommend you select "Choose Computer Audio". A telephone connection can be useful if you are away from your computer or you have a computer audio problem.
Connect by H.323 (Polycom or equivalent)
Set your H.323 device to connect via Internet Protocol and then key in one of these IP addresses:

162.255.37.11 (US West)
162.255.36.11 (US East)
221.122.88.195 (China)
115.114.131.7 (India)
213.19.144.110 (EMEA)
202.177.207.158 (Australia)
209.9.211.110 (Hong Kong)
64.211.144.160 (Brazil)
69.174.57.160 (Canada)
You will be prompted to key in your meeting ID. For MINERvA masterclass videoconferences, the Meeting ID is 301 062 922. Don't forget to enter # before and after the number.
Learn more
There is a lot of information, including tutorials, at the Zoom Help Center.