Friday Flyer on Monday - April 18, 2022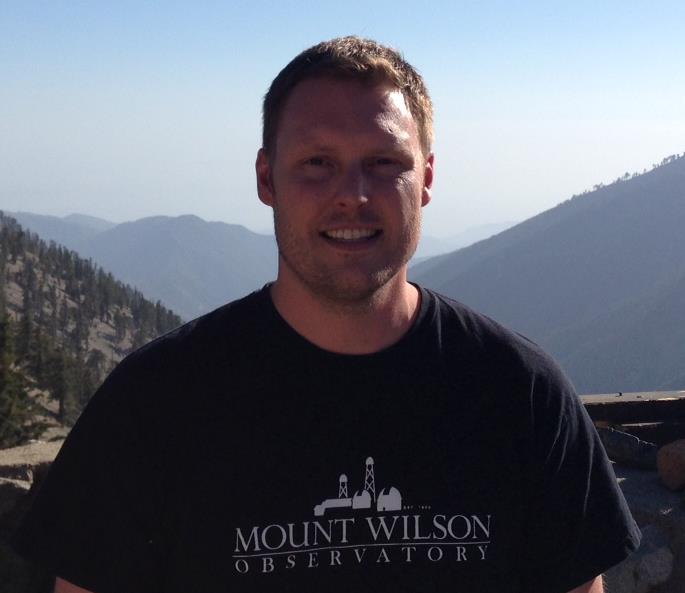 Submitted by
ShaneWood
on Mon, 04/18/2022 - 07:19

Spotlight on the Colorado State University QuarkNet Center
The CSU crew was able to meet once again in-person for their 2021 workshop after meeting virtually in 2020. Everyone agreed that Cherie Bornhorst's delicious chocolate chip cookies were much more enjoyable in-person rather than over Zoom! The July 2021 workshop brought in a mix of QuarkNet veterans, teachers new to QuarkNet, and one future science teacher who is currently an undergraduate student at CSU. This workshop focused on CMS, which served as a refresher for returning teachers and an excellent jumping-off point for the new participants. Mentor Bob Wilson gave a talk titled, What is Mass--Really?...From Classical to Quantum and answered many questions about his current research on neutrinos. The workshop finished up with a lab tour hosted by Jay Jablonski, a senior technician involved in building and maintaining detectors on several projects including DUNE and ProtoDUNE.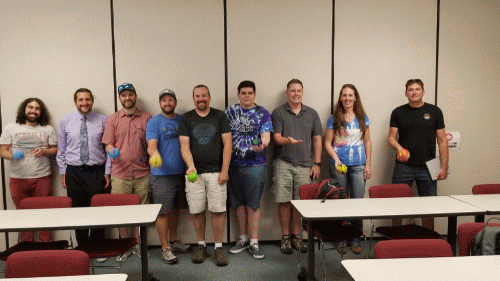 News from QuarkNet Central
QED fans: Remember that we are on hiatus until April 27, when we'll be back with an interesting and unique guest speaker.
The 2022 AAPT Summer Meeting will take place in-person in Grand Rapids, MI on July 9-13. According to the current schedule, abstracts may be submitted until April 21 for this meeting. For more information, including how to submit an abstract, visit the Summer Meeting page.
Several QuarkNetters attended the annual teacher conference at the UC Santa Barbara Kavli Institute for Theoretical Physics on March 26 titled Neutrinos and New Physics. (Check out the picture in Just for Fun!) If you missed this conference you can check out the slides and/or video recordings of the talks given by experts at the forefront of this exciting field. Mark your calendars for next year's KITP teacher conference, which is set for April 1, 2023, no joke! Next year's topic: quantum condensed matter.

Physics Experiment Roundup
Though the CDF detector at Fermilab has not taken any new data since the Tevatron shut down in 2011, the collaboration lives on and members continue to analyze its data. For example, the CDF collaboration recently announced the most precise ever measurement of the W boson mass, and the result, so far, differs from the Standard Model prediction.
The MicroBooNE collaboration recently announced a breakthrough measurement that sets the stage for future neutrino experiments, including DUNE. Researchers from CUORE report the most stringent limits yet on the possibility that the neutrino is its own antiparticle.
From CERN...Researchers from LHCb present findings that may help determine the origin of antimatter in cosmic collisions, and ATLAS strengthens its search for supersymmetry.

Resources
Don Lincoln is back with new video: How Can a Photon Have Momentum? From Symmetry: How to Make a Muon Beam (be sure to check out the embedded video) and Where do Theories Come From?
Perhaps a bit late for this year, but early for 2023! April 14 is World Quantum Day, a day to celebrate and promote quantum science and technology. Why April 14? (Hint: Planck's constant in units of eV-S.) Looking for ways to bring quantum physics into your classroom? Look no further than QuarkNet's Data Activities Portfolio (search in Quantum Mechanics under Curriculum Topics), or check out these activities from Perimeter Institute. Also from Perimeter Institute: Timothy Hsieh on the Magic of Quantum, the first episode in this season of Conversations at the Perimeter.
Celebrate Earth Day this week by joining series of events brought to you by the Fermilab Office of Education and Public Engagement.

Just for Fun
Fermilab is not only home to world-class particle physics research, but is also home to a herd of bison. The population of this herd grew by one on April 13 when the first calf of the year was born. Visit the bison cam to catch a glimpse of the herd, or you can now once again view the herd in person!
Also from Fermilab...Fun with an oscilloscope (be sure to scroll down), and fun with Mr. Freeze.
Finally...A picture of QuarkNetters gathering together after the KITP Teachers Conference last month.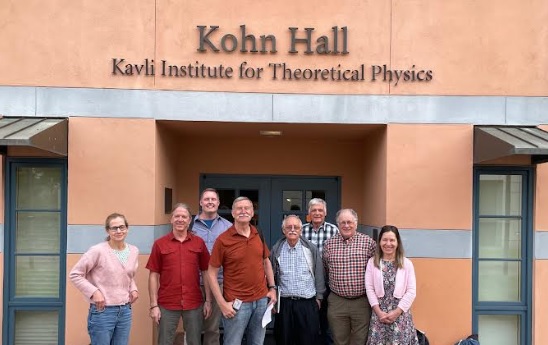 QuarkNet Staff
Mark Adams: adams@fnal.gov
Ken Cecire: kcecire@nd.edu
Spencer Pasero: spasero@fnal.gov
Shane Wood: swood5@nd.edu