Vidyo 2017

This page is to help to guide mentors and teachers in planning the masterclass videoconference.

Make sure your computer has
a robust internet connection.
webcam.
microphone (echo-canceling best, noise-canceling good).
speakers with enough amplification that all in your room can hear.
Connect to Vidyo meeting URL:
For CERN-moderated videoconferences, link directly to:
For Fermilab-moderated videoconferences, find links to Indico pages in the Videoconference section of the Masterclass Library for the current year; connect from Indico (see the box below).
Using Vidyo from a CERN Indico page
The QuarkNet Masterclass video conferences will access pre-arranged Vidyo sessions via Indico. Each Masterclass Institute will be given the URL to the Indico page for their video conference.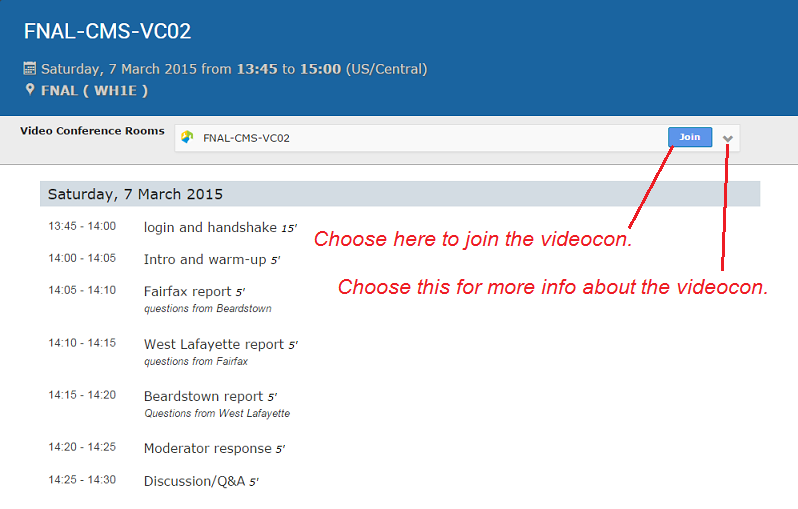 To join Vidyo:
Go to the provided Indico page.
Choose the blue "Join" button.
Join the meeting:
If you have a CERN computer account, you can use your credentials to log in.
Anyone can log in as a guest by entering a name in the box and choosing the green "Connect to the conference" button.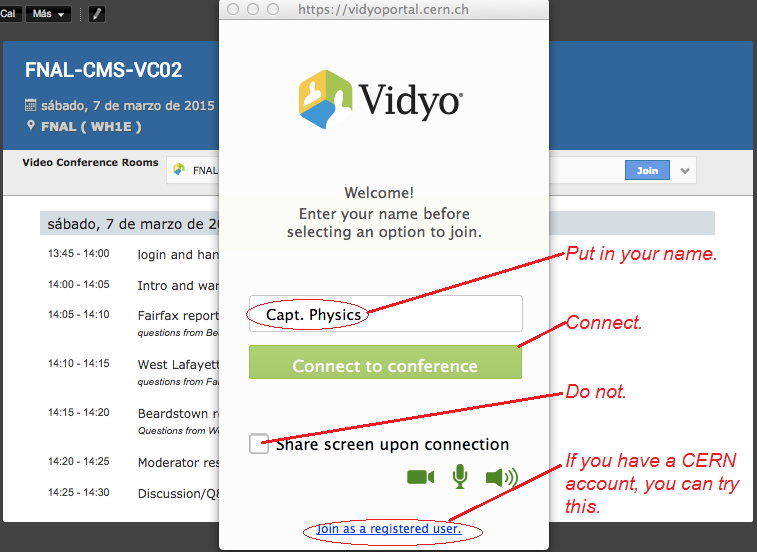 If your computer is connecting to Vidyo for the first time, you will be prompted to download the client. Please do so.


The Vidyo window will appear.
Alternative path: Vidyo may come up embedded in your browser, in which case you run it from there.
Using an H.323 (Polycom or equivalent) device
To call into a meeting, dial in the IP address of a Vidyo gateway:
CERN: vidyogw1.cern.ch (137.138.248.204).
Internet2 (Ann Arbor): cern-vidyo-gateway0.internet2.edu (207.75.165.80).
Dial in the Vidyo Room extension followed by the # key.
For additional information, contact vidyo-support@cern.ch.