2016 Summer Student Annual Report for Fermilab U of C site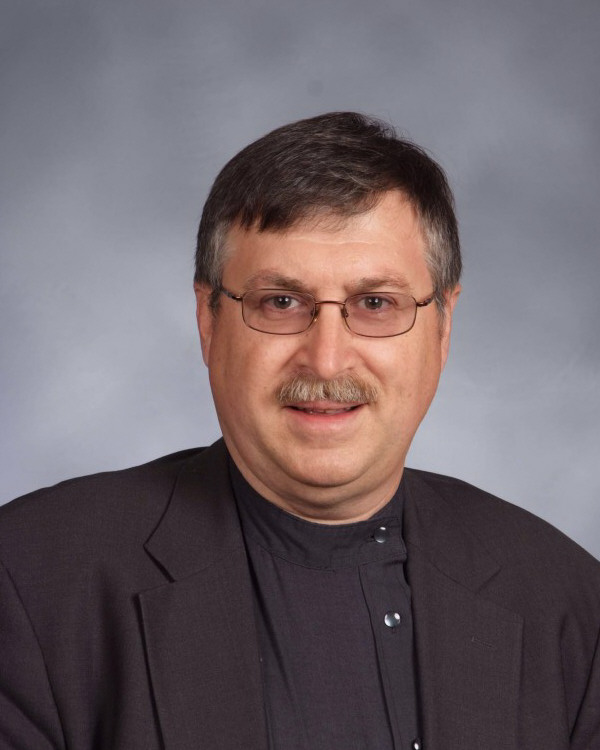 Submitted by
gdzurics
on Thu, 08/04/2016 - 11:17
QuarkNet
Fermilab: University of Chicago
Student Summer Research and Teacher Workshop Annual Report
The Fermilab/University of Chicago QuarkNet Center sponsored its annual student summer research and teacher workshop for its 10th year. The summer research began June 20th and went until July 29th. The three day teacher workshop spanned from July 27th to July 29th. This year's summer activities included two mentor teachers, eight high school students, (seven juniors and one sophomore), 12 physics teachers, and one lead scientist. Teachers from the workshop primarily were from the suburbs west of Chicago, all having taught physics or will be teaching physics this upcoming year. We had a good spread in gender, age, and years of experience in the classroom.
The summer research was extremely exciting for the students this year. Six of the students worked individually, each with a mentor scientist, while the other two students worked together, sharing a mentor scientist. The students' experiments ranged greatly. The students conducted research on a number of different areas including Astrophysics Detectors, Scientific Computing, Dark Matter Axion Detectors, Test Beam Facility, Muon g-2 Experiment, Dark Energy Survey, and the QuarkNet Radio Telescope. During the week, the students had the opportunity to attend lectures by well-known scientists as well as go on tours of the experiments. We conducted weekly lunch meetings on Mondays to keep up with the logistics and share the progress on the students' experiments. Over the course of the summer, in order to more completely document their experience, the students wrote papers. Finally, for the teacher workshop, each student prepared a presentation to give on their experiment. All of these went well and we are extremely proud of their progress and accomplishments.
The teacher workshop was also a great success. Teachers immersed themselves for three days at Fermilab with data from a variety of Physics experiments. During the first half of the workshop they looked at research projects done by our QuarkNet students, worked with scientists from Fermilab and toured Muon/g-2 and D0/Tevatron. Scientists included Chris Polly, Fermilab and Muon g-2, Amber Stuver, LIGO and gravitational waves, and Brittany Kamai, History of the Universe. During the second half of the workshop they worked with Marla Glover to review fundamentals of the CMS experiment and study how to teach with research data using the QuarkNet E-labs. Teachers developed a plan for leading students to the next level of data collection, interpretation, and explanation.
The Fermilab/University of Chicago QuarkNet Center continues to provide a top notch research experience and educational workshop. Both teachers and students expressed their satisfaction. We are also now planning three different events to provide further opportunities for teachers. We are scheduling an Introduction to Python workshop in the fall, a visit to the Yerkes Observatory in the winter, and in the spring one-day CMS Master Class for high school students.
Lead Teachers: Laura Brenski Thorpe and George Dzuricsko
2016 Annual Quarknet report for Syracuse University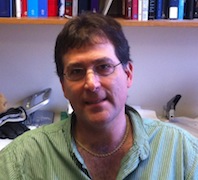 Submitted by
SteveBlusk
on Tue, 08/02/2016 - 12:05
During 2016, the Syracuse University group was pleased to host two days of LHCb MasterClasses, which enabled about 55 high school students to learn about particle physics and the Large Hadron Collider. On each of two days, we hosted students and their teachers from two local area high schools. The four high schools are: Liverpool HS, Weedsport HS, Port Byron HS and Fayetteville Manlius HS. Students spent the morning attending presentations by Profs. Steven Blusk and Matthew Rudolph on particle physics and the LHC (see Fig 1 below).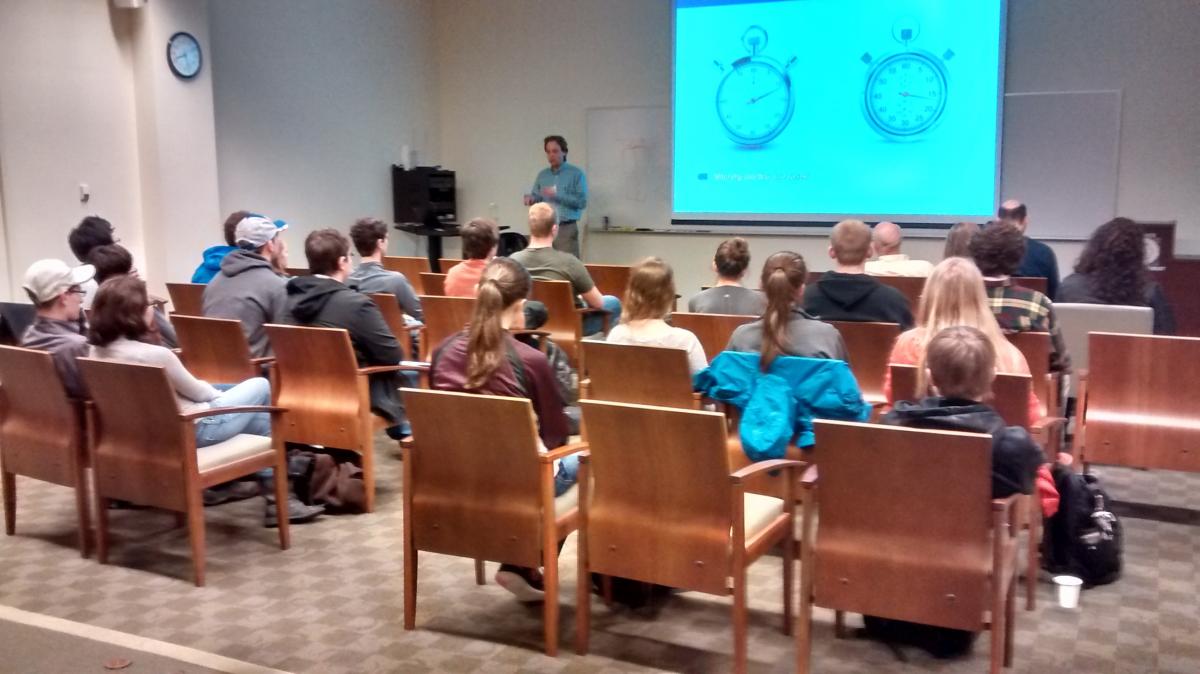 Fig. 1: Prof. Matt Rudolph describing the concept of time dilation (photo by Prof. Blusk).
In the afternoon, students were engaged in a computer-based activity where they had the opportunity to work with LHCb data. Feedback from teachers indicated the students enjoyed the day's events.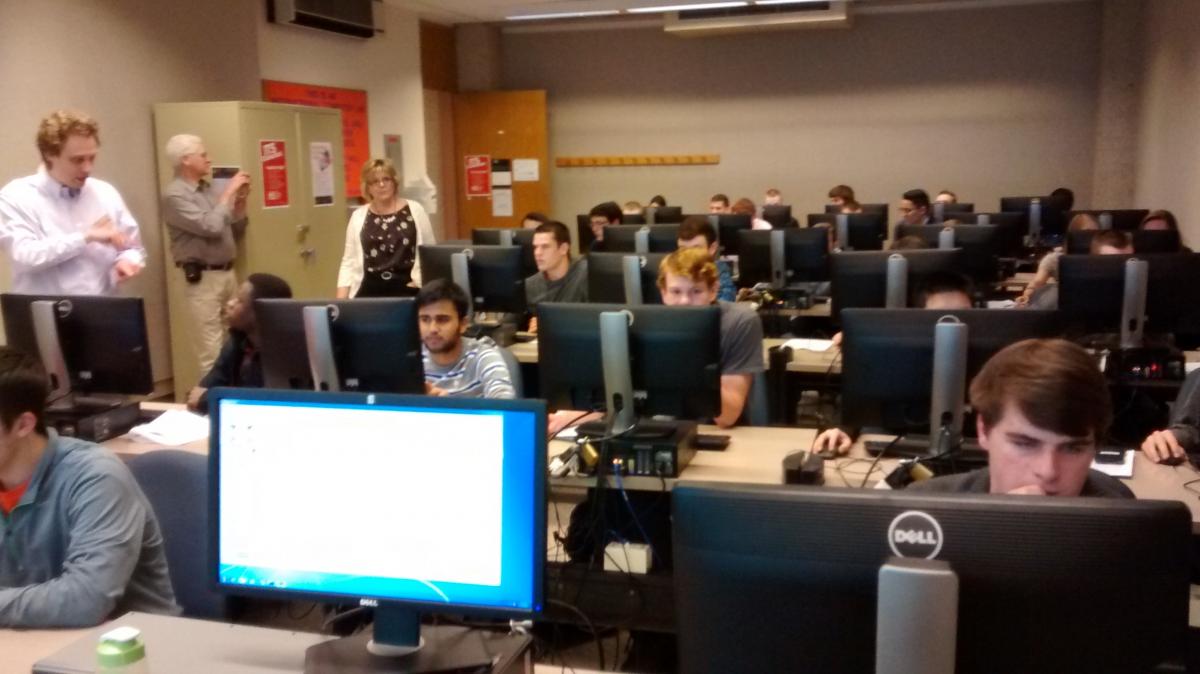 Fig. 2: Students from Weedsport and Liverpool high schools in the computing lab working through an activity using LHCb data (photo by Prof. Blusk)
On July 6-7, we hosted a Quarknet workshop. We were pleased to welcome 7 new high school teachers to Quarknet, along with 1 "Quarknet veteran teacher" (see Fig. 3).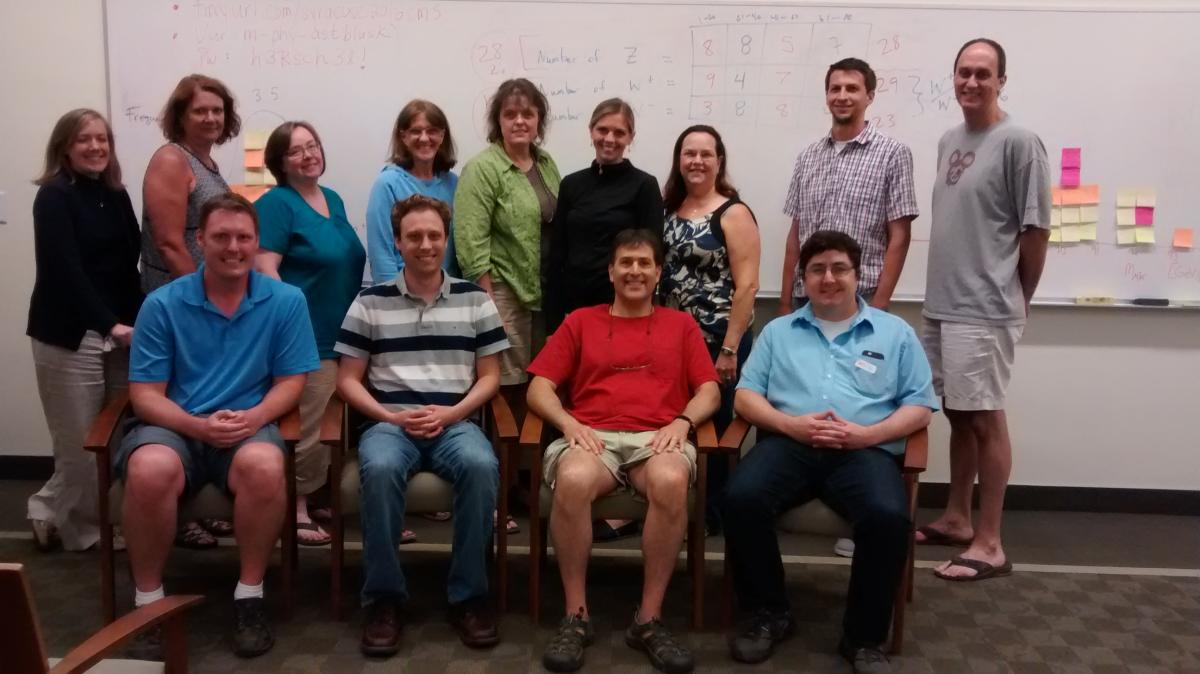 Fig. 3: Participants in the 2016 Quarknet workshop at Syracuse University: Bottom row: Shane Wood, Prof. Matt Rudolph, Prof. Steven Blusk, Prof. Mitch Soderberg. Top row: Alexa Perry, Patricia Madigan, Linda Wicks, Susanne Gardner, Anne Huntress, Stephanie Metz-Miller, Debbie Gremmelsbacher, Richard Heffernan, and Richard Adler.
We were also delighted to have Shane Wood and fellow Debbie Gremmelsbacher from Quarknet at the event. Shane did a spectacular job leading the CMS data workshop, which featured several hands-on and computer-based activities. Profs. Blusk, Rudolph and Soderberg also attended and provided support and facilitated discussions on various particle physics topics. The two-day program can be found at: /content/syracuse-cms-data-workshop-2016. Figure 4 shows some of the high school teachers working through the CMS data activity, along with Prof. Rudolph providing additional explanations of the data.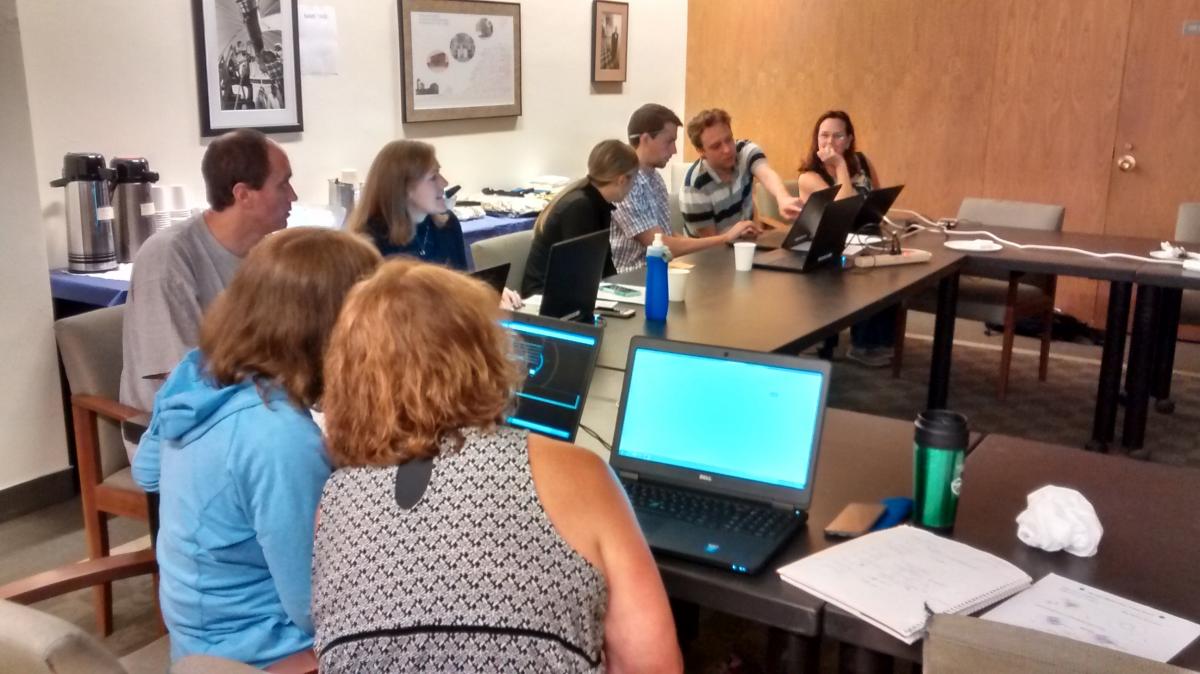 Fig. 4: High school teachers engaging in the CMS data workshop on July 6-7 at Syracuse University (photo by Prof. Blusk).
We expect many of the new teachers will return for future Quarknet activities. We also have a pool of about 10 additional teachers who expressed interest, but were not able to attend this summer.
Cosmic Ray Detector Experiments LBNL 2016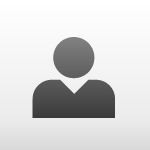 Submitted by
LaurieKerrigan
on Mon, 07/11/2016 - 18:38
Cosmic Ray Detector Experiments LBNL 2016
Students
| | |
| --- | --- |
| Adly | Armin |
| Auchard | Brock |
| Ayala | Natalie |
| Bohan | Patrick |
| Brown | MacKenzie |
| Chan | Ka Chun (Joe) |
| Carr | Allison |
| Cheung | Windfield |
| Choi | Becky |
| Coen | Kelsey |
| Cook | Nathan |
| Cooper | Nicolas |
| De Petris | Nicole |
| Deshpande | Saadhana |
| Duong | Aivy |
| Gonzalez Corona | Eric |
| Grobeck | Devin |
| Groth | Emily |
| Hopcraft | Connor |
| Ianora | Isabella |
| Jaber | Nicholas |
| Kalil | Madeline |
| Kingdon | Noah |
| Kushner | Luca |
| Liu | Shojeh |
| Lowe | Jenna |
| Mariano | Leannah |
| McTiernan | Joseph |
| Nguyen | Caroline |
| Nguyen | Isabelle |
| Osborn | Katie |
| Philliber | Theo |
| Pinthapataya | Anya |
| Scheuer | Espen |
| Shin | Taeggin |
| Stripling | Mia |
| Tiano | Elicia |
| Tom | Zachary |
| Wang | Jim |
| Weber | Natalie |
Teachers High School
| | | |
| --- | --- | --- |
| Adams | Ray | retired |
| Becker | Philip | Las Lomas High |
| Carlson | Michael | Alameda High |
| Cooke | Paul | Blue Oak School |
| Cooper | Susan | Haward |
| Eldred | Craig | Terra Linda |
| Garrison | Glenn | Blue Oak School |
| Guthrie | Laura | Alcalanes |
| Kerrigan | Laurie | Mercy, S. F. |
| Marten | Bryan | Lowell |
| Melnik | Glen | Piedmont |
| Risk | Valerie | Albany H S |
| Turney | Kayla | Castro Valley |
Purpose –The purpose of this experiment was for students to have hands on experience collecting & interpreting data from muon detectors. Students have had no previous experience using detectors. These detectors were supplied by Howard Matis of LBL.
Methods – The experiment was broken up between two days. There were 10 teams, each with 4 students, 1 teacher & 1 detector. The first day, students learned how to use the detectors & were asked to design a brief experiment. These experiments ranged from tilting the detectors to get a different count to shielding experiments using different floors in a building. One interesting experiment that two groups conducted at different times were to place a bag of ice on the detectors. Both groups got an increase in muon counts.
Results - The data was recorded to various degrees, by each group. Because of time constraints, there was no formally written data shared with the entire group. There was a debriefing with a discussion of the results in general terms. Some groups did mention specific numbers of muon counts. Each group that carried out the angle experiment had results that confirmed that you would get less counts if the paddles were vertical. There was a discussion covering the causes of the difference in counts depending upon the orientation in a given detector. Each group saw there was a much higher count when the paddles were orientated horizontally as opposed to vertically. This difference provided confidence that muons were detected, not just electrical noise.
There was also a discussion on why the two detectors had different counts which lead to an explanation which covered the role voltage plays in the sensitivity of the paddles. Too high of a voltage gives a runaway count, too low of a voltage gives no count.
One group tried to use the entire magnetic field of the earth, using the right hand rule to see if there were more counts facing west compared to east. General consensus of that group was that they count more counts when facing west. But they were trying to combine this with a tilting experiment so there were too many variables to have a valid result.
The surprising result of the ice on the detector may have been due to the whole detector's resistance was lowered allowing for a larger count. Another possible explanation was that muons were hitting the ice which created a shower of electrons into the paddles.
Meaning & future investigations - Cosmic rays have played a large role in the development of Particle Physics. The muon as well as antimatter were first detected by cosmic ray investigations.
This activity gave the students a first-hand experience in understanding & working with particles. Working with detectors also helped the students understand the collection of subatomic particles importance on much larger scales such as in SNO+ experiment.
Further investigations could include continuing to study the different shielding materials, different elevations of detection, & the effects of magnetic fields on the detector as well as the earth's magnetic field.
FIT Annual Report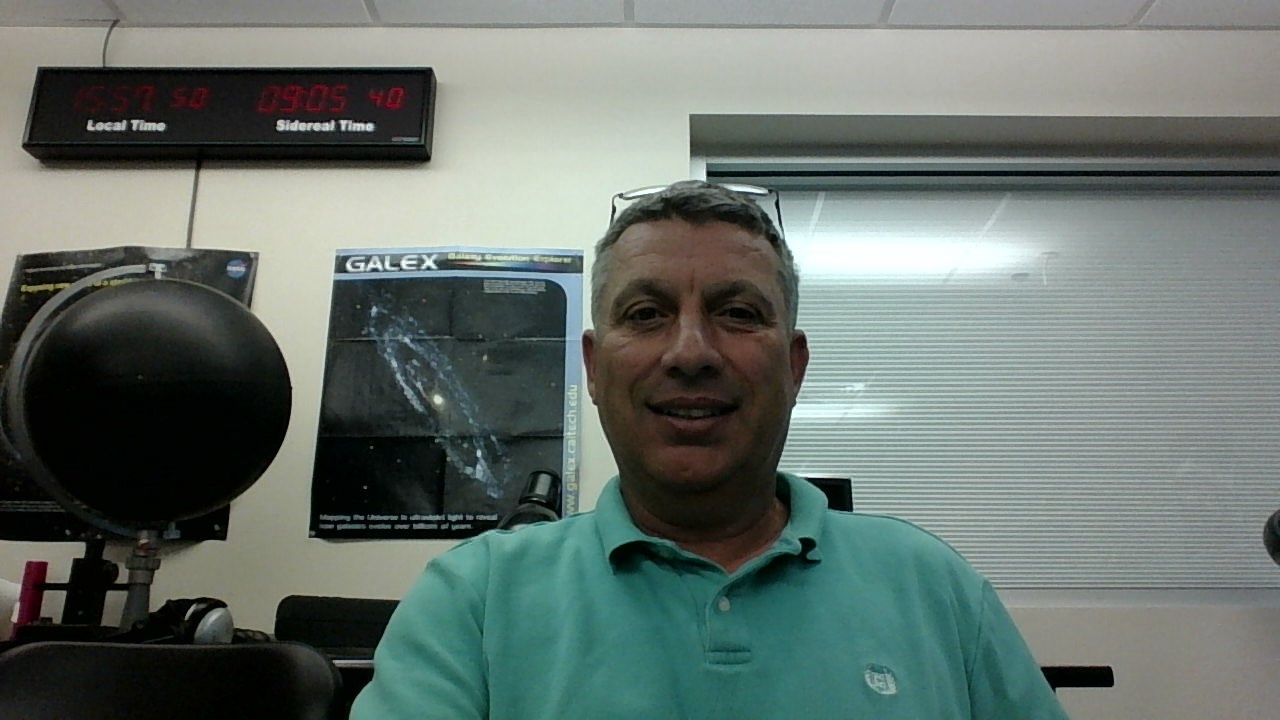 Submitted by
QNPIRATE
on Tue, 06/21/2016 - 09:10
This year at FIT was very successful. After last year's summer internship, students were introduced cosmic rays and muon detection. A discussion came about limiting background noise and coincidence among paddles. That following school year a student from Palm Bay High School (Devon), wanted to see if background noise could be limited by submerging the Paddles under water. After speaking with Dr. Holmann, we decided to surround the tanks with 10 galloon aquariums. As a result Devon placed first in the physics category at regional and 4th at the Florida State Science fair.
This summer at FIT we were able to recruit 5 local teachers, 1 Quarknet lead teacher from UCF, and 2 lead teachers giving a total of 8 teachers. During the teacher workshop we had talks from local professors. Dr Rybicki gave two talks. One on Nuclear Fission and one on Nuclear weapons. Dr Petite gave a talk on categories of the stars and the sun. She also brought out a telescope with a sun filter to observe sunspots. Dr Holmann gave a talk on CERN and his research on using Muon counts to detect Uranium transport. We were also able to visit FIT's new DSL (digital scholar lab).
Quarknet Fellow Robert Frankowicz and Dr Mark Adams arrived for the week long workshop. Discussions on posters, equip software, and plateauing paddles were led by Robert and discussions on e-lab, speed of a muon, and scattering were led by Mark Adams. Dr. Yumiceva arrived during the week of June 13th and discussed a student project on the effect of electromagnetic fields and the interaction between muons based on the right hand rule. The discussion also involved the loss of energy as muons passed through a layer of lead. UCF lead teacher Adam LeMee instructed students and teachers through the following quarknet activities: "Rolling with Rutherford", "Top Quark" & "Lasers/Spectroscopes".
FIT Quarknet also hosted 6 High School students. Two of the students were from Bayside H.S, to students were from Melbourne H.S. and two of the students were from Palm Bay H.S. Students designed their own projects, collected and analyzed the data, then shared their findings by creating posters on the quarknet sight. Topics of interest included:
Flux study comparison at different floors of a building
Effects of an electromagnet on coincidence
Deflection of muon's through a Faraday Cage
Effects of atmospheric conditions on muon counts
Experimental quantification of the speed of a muon
Effect of noise flux study by introduction of a plasma (nebula) ball